Soft Skills Session Presented At SVCC By College Dean and VP Academic Affairs

Hi SV Code Campers,
Moving SV Code Camp to Evergreen Valley College this year has been a huge effort and before we get to bogged down in details, we just wanted to let everyone know how grateful we are for the support of the college and its staff to make this happen.
Two of our key supporters at Evergreen Valley College are Lena Tran, Dean Business and Workforce Development and Keith Aytch, VP Academic Affairs will be presenting a session at our event titled
"Soft Skill for Tech People..."
.
If you don't make it to the session, make sure you make a point to bump into them, likely at the Evergreen Valley College tent in the sponsor area. We really appreciate all the hard work they are putting in to make our event successful and are very excited that they are joining us as speakers also.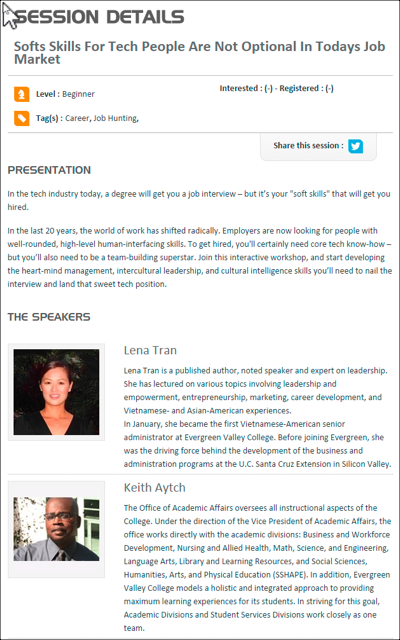 That's it for now. See you all very very soon.
Best Regards,
Peter Kellner (SVCC and Code Stars Summit Organizer)
Registration Status: ##CurrentYearStatusHtml##
Code Stars Summit Workshops on Friday October 2nd

Workshop
Description
Speaker(s)
Status
ReTweet
C++11/14 Bootstrap
C++11/14 is not just a minor upgrade, it has been described by many as a new language! This one-day bootstrap course will get you up-to-speed with the language changes you are most likely to employ in your daily work.
Gašper Ažman
Available
Tweet
SqlServer, Tune Like A Guru!
We will look at all of these things and more from a variety of angles, while also covering many of the tips, tricks, tools, etc. I have collected in my almost 45,000 man hours of working with SQL Server.
Kevin Boles
Available
Tweet
Docker and Kubernetes Workshop
Containers are enabling developers to package their applications (and underlying dependencies) in new ways that are portable and work consistently everywhere? On your machine, in production, in your data center, and in the cloud. And Docker has become the de facto standard for those portable containers in the cloud.
Arun Gupta
Available
Tweet
Run MongoDB Like a Champ!
MongoDB is an open-source, document-oriented, NoSQL database that is fast becoming to go-to choice for many organizations. Although cunningly easy to set up and get started, MongoDB is a database, and therefore requires proper care and knowledge to run successfully in a large scale production environment.
Nuri Halperin
Available
Tweet
Chef Workshop Hands-On
The path to DevOps is paved with code for all the things. Chef lets you to codify and automate your infrastructure, application runtimes, continuous integration, application deployments and lifecycle state management. In this introductory hands-on workshop we will use Chef to write infrastructure code.
Bakh Inamov
Available
Tweet
AngularJS 1.x Fundamentals
This workshop is a beginner level class that will take you step by step through the process of building an Angular 1.x application. You'll learn how to combine your previous HTML and Javascript knowledge with AngularJS also
Jerry Kurata
Available
Tweet
Managing Software People and Teams
A 1 day workshop that will give you the tools, insights, and confidence to manage programmers and programming teams effectively. Learn how to turbocharge your career and deliver outstanding results for your company!
Ron Lichty, Mickey Mantle
Available
Tweet
Rock Your Code and Applications with dotNetDave
This workshop will guide any level of programmer to greater productivity by providing the information needed to write consistent, maintainable, rock solid code.
David McCarter
Available
Tweet
Creating Web Applications with Golang and Google App Engine
Build Web Apps that easily scale to millions of individuals with Google's Go language (Golang). You will leave with resources and code samples to start making all of your software and apps really go.
Todd McLeod
Available
Tweet
Let's work through some coding interview problems
At http://InterviewKickstart.com, we believe that most engineers are smart, but they under-estimate the preparation it needs, to crack into stellar companies. Let's make use of the time we have, to get thru some popular, short technical questions.
Soham Mehta
Available
Tweet
ECMAScript 6 - The Lastest JavaScript Fundamentals
Learn about the new JavaScript known as ECMAScript 6
Scott Moss
Available
Tweet
Applied SEO: Winning at Search To Get New Customers
Getting your business visible in organic search can be elusive. Now search results are localized and uber personalized. In this one-day intensive workshop, participants will learn both the art and science of an SEO strategy and how to apply it on their website.
Massimo Paolini, Alyson Harrold
Available
Tweet