Everything ChatGPT at SV Code Campfire
On Saturday, we had four great ChatGPT sessions. As promised, Glenn Block did some great examples of using ChatGPT for the first time in his session. Jerry Nixon talked about ChatGPT in higher education in his, and then Carson Lam did a pretty technically deep discussion around what's inside if you wanted to built your own ChatGPT. Finally, Junling Hu did a great job of introducing what the science is behind ChatGPT and did an excellent job of defining what a lot of the terms people throw out there are and what they mean.
Click on this link to see the full PlayList including the Q&As after each session. The Q&A after the second talk between was really good IMHO.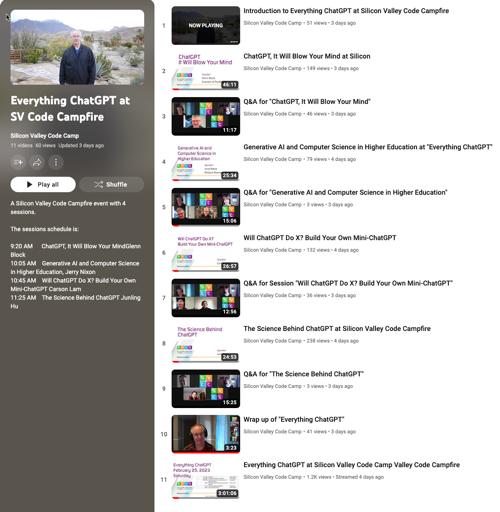 Sessions below that include links to the individual videos
See you next time!
Best Regards,
Peter Kellner, Organizer, Silicon Valley Code Camp and SV Campfire
##EmailSentToMessage##
##UnsubscribeFromSvccOrCssBasedOnCodeCampType##